Welcome to the Fairy Without Wings Wiki's Grammar Policy page. This policy concerning proper grammar usage in our wiki is definitely recommended for anyone who wishes to create new articles or check existing articles in our wiki.
As with any policy, disregarding Grammar Policy will result in a proper punishment depending on the severity of the offence.
Language
As you probably already noticed, English is the main language used for expression here, meaning that all the article pages should be written in it. Although, you are free to express yourself in other languages on your user page or user message wall(s), as long as it isn't disruptive.
Grammar Level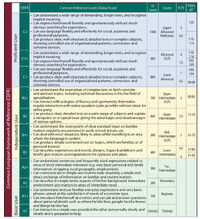 The exact grammar level required here isn't completely defined, but we believe it should be somewhere around B2+ CEFR level. In other words, this means that you are able to understand various texts, as well as are capable of utilising the language to create meaningful yet somewhat complex sentences which express what you're trying to say, i.e. articulate what you mean. For further reference, take a look at the chart on the right.
As a small addition to the abovementioned, a skill in summarising is preferable, but not completely obligatory, as writing brief yet concise summaries is something in which this wiki tends to strive.

Tense
All the articles should be written in Present Tense. The aspect (i.e. should the tense be Simple or Continuous) isn't as important as the tense itself, but looking for it as well is preferable.
Exceptions to this rule, however, are:
Character flashbacks
Abstract and Personality sections of the deceased characters
History section in any article
All of these should be then written in Past Tense instead.
Addressing
All the articles should be written from the perspective of someone "living" in the wiki's universe, or so-called in-universe addressing. Therefore, things like "In chapter 13,..." and such are not allowed to be implemented in the wiki's pages.